Touché, Pussy Cat!
Comments

0
382pages on
this wiki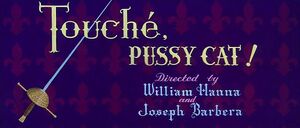 Touché, Pussy Cat! is a 1954 Tom and Jerry cartoon.
Plot
Nibbles is sent to Jerry to be a mouseketter. But he is terrible at it, so he is forced to go home. But on the way, he gets in a fight with Tom and drowns him in wine, making Nibbles a mouseketeer.

This article is a stub. You can help Tom & Jerry Wiki by expanding it.