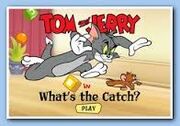 Tom and Jerry in What's the Catch
is a free-to-play game on the Cartoon Network website.
Playable Characters
Levels
There are two levels in the game.
Tom
Catch the plates before they falls and grab the glasses.
Jerry
Jump over the objects (balls, blocks etc.) and watch out for Tom.
You can play it here.