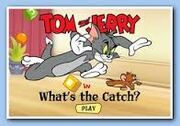 Tom and Jerry in What's the Catch
is a free-to-play game on the Cartoon Network website.
Playable Characters
Levels
There are two levels in the game.
Tom
Catch the plates before they falls and grab the glasses.
Jerry
Jump over the objects (balls, blocks etc.) and watch out for Tom.
You can play it here.
Ad blocker interference detected!
Wikia is a free-to-use site that makes money from advertising. We have a modified experience for viewers using ad blockers

Wikia is not accessible if you've made further modifications. Remove the custom ad blocker rule(s) and the page will load as expected.