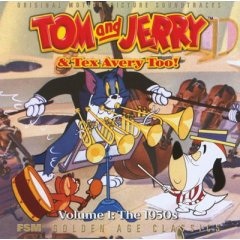 Tom and Jerry and Tex Avery Too! Volume 1: The 1950s is a 2006 soundtrack album collecting Scott Bradley's music from Metro-Goldwyn-Mayer's Tom and Jerry, Droopy, and Tex Avery theatrical animated shorts.[1] These cartoons' soundtracks were selected as the first release as they had the best sound quality. However, no further volumes have been released.[2]
Track listing
Disc 1
"Touché, Pussy Cat!"
"That's My Mommy"
"Deputy Droopy"
"Blue Cat Blues"
"T.V. of Tomorrow"
"Busy Buddies"
"Mouse for Sale"
"Neapolitan Mouse"
"Dixieland Droopy"
"Give and Tyke"
"Happy Go Ducky"
"Little Johnny Jet"
Disc 2
"Field and Scream"
"Pecos Pest"
"Billy Boy"
"Downbeat Bear"
"Pet Peeve"
"Tom and Chérie"
"Cellbound"
"Tom's Photo Finish"
"Downhearted Duckling"
"Scat Cats"
"Homesteader Droopy"
"Barbeque Brawl"
"Tot Watchers"
Sources
Ad blocker interference detected!
Wikia is a free-to-use site that makes money from advertising. We have a modified experience for viewers using ad blockers

Wikia is not accessible if you've made further modifications. Remove the custom ad blocker rule(s) and the page will load as expected.