Welcome to the Tom and Jerry Wiki!
Welcome to the Tom and Jerry Wiki! We are currently editing over 1,204 pages, and 5,613 files, and YOU CAN HELP!
Featured Article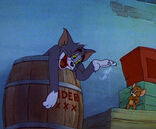 Part Time Pal is the 28th entry of the classic series and was made in 1947. Pete Burness, from the animation team for this entry, animated around 50% of the cartoon, but received no credit due to the fact that he left the studio shortly after it was made. Tom is being scolded by Mammy Two Shoes in the kitchen: "And this, Mister Thomas, is your last and final chance! Either you keep that mouse out of this icebox, or you go out! Understand?!" She hands him her broom. "Remember: you're on guard." As she leaves, Tom marches around the kitchen angrily and alert for mice. However, Jerry opens up a grille on the floor, exposing a hole, and directs Tom into it. Jerry immediately heads for the fridge, about to eat some corn, Tom swipes it off him starting a chase. Read More.
News
The series turns 76 on Feburary 10! Look out for a special annoncement from the crew on that very day! Once you hear about it, you may wanna stick around all month!
The Tom and Jerry Show (2014)'s second season is making its premiere on Feburary 6 on Cartoon Network!
Affiliates
Make sure to check out our affiliates! If you're interested in affiliating with the Tom and Jerry Wiki, please contact an admin or leave a request here.

Other Cartoon Network/Boomerang Wikis
Did you know?
Picture of the Day
Who says Pong requires two players? Jerry just plays alone.
Any Questions?
Featured Poll
Tom and Jerry has received their outlines for the second season of The Tom and Jerry Show (2014)! What are your opinions?