Welcome to the Tom and Jerry Wiki
Welcome to the Tom and Jerry Wiki! We are currently editing over 1,186 pages, and 5,274 files, and YOU CAN HELP!
Featured Article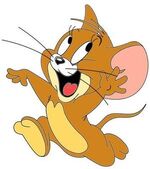 Jeremiah "Jerry" Mouse is one of the 2 tile-characters in Metro-Goldwyn-Mayer's series of Tom & Jerry theatrical cartoon short films. Created by directors William Hanna and Joseph Barbera, Jerry is a brown anthropomorphic mouse, who first appeared in the 1940 M.G.M. animated short Puss Gets the Boot. William gave the mouse's original name as "Jerry," while Joseph claimed the mouse went unnamed in his first appearance. Read More.
Affiliates
Make sure to check out our affiliates! If you're interested in affiliating with the Tom and Jerry Wiki, please contact an admin or leave a request here.

Other Cartoon Network Wikis
Did you know?
Any Questions?
Featured Poll
Which studio handled Tom and Jerry the best?