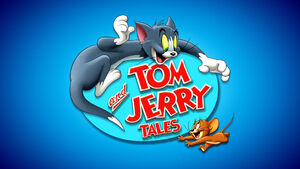 Tom and Jerry Tales is an American animated television series which began production in 2005, currently airing on Cartoon Network in re-runs (and previously airing as apart of the Cartoon Network block Cartoon Planet). As the title suggests, this series stars the well-known title characters from the classic Tom and Jerry shorts, and also is the first made for TV iteration of the cartoons to emulate the theatrical shorts. It grew from the direct-to-video movies, The Magic Ring (2001), Blast Off to Mars (2004) and The Fast and the Furry (2005) as well as the theatrical short The Karate Guard (2005), the first Tom and Jerry short co-directed by the characters' co-creator, Joseph Barbera since the original shorts.
Barbera also served as an Executive Producer before his death, as well as receiving story credit on some short cartoons, of the "Tom and Jerry Tales" show's first season, produced by Warner Brothers in 2006. The series had its premiere on Kids' WB on The CW on September 23, 2006. Each episode consists of three short cartoons with approximately the same runtime as the original theatrical shorts. Also, each of the three shows that air in a 30 minute episode have some type of theme. For example, episode 1 (Tiger Cat/Feeding Time/Polar Peril) have a theme of animals.
Gallery
Trivia
This is the longest waiting for the new Tom and Jerry TV show. 12 years passed - from 1994 until 2006 means series finale of Tom and Jerry Kids until series premiere of Tom and Jerry Tales.
This is the first Tom and Jerry show to be aired and owned on Warner Brothers Animation.
This is the first Tom and Jerry show first aired on 21st century.
In the intro of Tom and Jerry Tales, Jerry and Tom appears as stick figure cat and mouse like in Designs on Jerry before going inside a mouse hole and later appearing in their normal appearance.
in welsh dub. caren brown dosen't voice characters Until Tom and Jerry Show 2014. so it have Dyfan Roberts to voice all characters.
Episodes
Main article: List of Tom and Jerry Tales episodes
Videos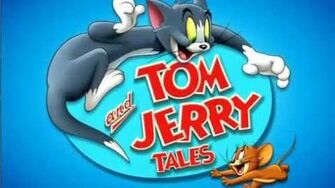 Ad blocker interference detected!
Wikia is a free-to-use site that makes money from advertising. We have a modified experience for viewers using ad blockers

Wikia is not accessible if you've made further modifications. Remove the custom ad blocker rule(s) and the page will load as expected.