Tom & Jerry: Blast Off To Mars
Comments

2
363pages on
this wiki
In "
Tom and Jerry: Blast Off to Mars
",
Tom
and
Jerry
accidentally have a chase leading them onto a spaceship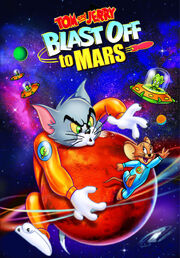 which
Buzz Blister
and
Bizz Buzzard
are taking to Mars. Then Tom and Jerry run off again once on Mars. Then they encounter Martians that mistake Jerry for someone from a prophecy and treat him well. But Tom accidentally destroys their city and is about to be dumped into lava. But a Martian saves Tom and Jerry, Jerry and the Martian escape to Earth. But Martians disintegrated some people after Buzz said there was no life on Mars. But the friendly Martian saves the disintegrated people, but Martians attack with a giant machine. But there's
Spike
, who will do anything to enjoy his bone. Tom throws it into the Martian machine, and Spike destroys the machine (and gets his bone back ) when a party is held for Tom and Jerry, Spike repairs the machine and Tom gets chased while the others have a happy ending.
Voice Characters