Tom and Jerry: The Official Mobile Game is a Chinese 2015 game for iOS and Android. The game is a traditional runner, similar to the style of Temple Run. It released to a whopping success in China, and made the No. 1 top spot on the Chinese iTunes store.
The art style closely resembles that of the 2014 TV Series, along with the DTV special "Santa's Little Helpers." For those who hate the 2014 Flash designs, this game is sure to please.
The game also contains a whack-a-mole style minigame, a tournament feature, costumes, in-app purchases, and a level and endless mode.
It is possible to play the game outside of China, but not without trial and error for iOS devices. iOS devices require a Chinese Apple ID to be downloaded, unless you are jailbroken, then you could simply download a IPA file. Android devices, other hand, are as simple as can be. Follow the website below, and press the green button, and it downloads a APK file.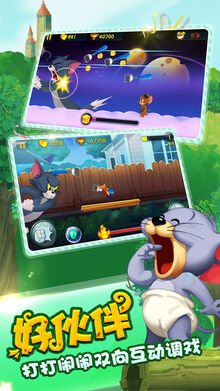 Ad blocker interference detected!
Wikia is a free-to-use site that makes money from advertising. We have a modified experience for viewers using ad blockers

Wikia is not accessible if you've made further modifications. Remove the custom ad blocker rule(s) and the page will load as expected.