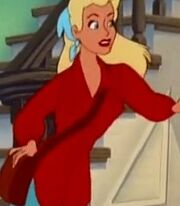 Tom's Owner is a minor character in Tom and Jerry: The Movie. She is voiced by B.J. Ward.
Information
Tom's Owner is only seen at the house which was going to be demolished by tomorrow for a new building called High Rise Luxury Apartments, when she and Tom are about to move to a new house for a long ride. However she left Tom behind thanks to a feud with Jerry. Tom tries to reach her, but he is stopped by a bulldog, preventing him from reaching her and forcing him to return to her former house.
Ad blocker interference detected!
Wikia is a free-to-use site that makes money from advertising. We have a modified experience for viewers using ad blockers

Wikia is not accessible if you've made further modifications. Remove the custom ad blocker rule(s) and the page will load as expected.