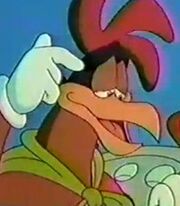 The Yolker is a character who appear as the main antagonist of the Tom & Jerry Kids episode "Super Droop & Dripple Boy Meet the Yolker".
Trivia
The Yolker is a parody of the Joker, a villain from the Batman franchise. But in Return of the Yolker, the Yolker is a human in a rooster costume.
The Yolker return in the spin-off Droopy, Master Detective as a human in a costume of The Yolker.
He is voiced by Patrick Fraley.
Gallery
Ad blocker interference detected!
Wikia is a free-to-use site that makes money from advertising. We have a modified experience for viewers using ad blockers

Wikia is not accessible if you've made further modifications. Remove the custom ad blocker rule(s) and the page will load as expected.