The Tom and Jerry Show (2014)
Comment

1
382pages on
this wiki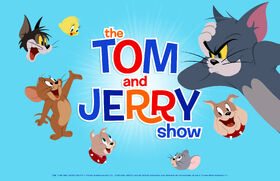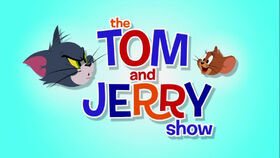 This article is about the 2014 series. For the 1975 series, please see The Tom and Jerry Show (1975).
The Tom and Jerry Show is a 2014 series based on Tom and Jerry. The show made it's worldwide debut on TELETOON on March 1st, 2014, and aired on April 9th, 2014 on Cartoon Network USA. It also premiered April 7, 2014 on Cartoon Network Latin America.
Characters
Voice Cast in Alphabetical Order
Jason Alexander as Rick
Eric Bauza as Skunk
Joey D'Auria as Butch
Grey Delisle-Griffin as Ginger
Rachael MacFarlane as Hilde
Rene Mujica as Newt, Bear
Chris Parnell as Narrator
Cree Summer as Beatie
Rick Zieff as Spike
Trivia
Episodes
Spike Gets Skooled / Cat's Ruffled Fur-niture (Airdate: April 9th, 2014)
Sleep Disorder / Tom's In-Tents Adventure (Airdate: April 16th, 2014)
Birthday Bashed / Feline Fatale (Airdate: April 23rd, 2014)
Cat Nippy / Ghost of a Chance (Airdate: April 30th, 2014)
Holed-Up Classic / One of a Kind Detective (Airdate: May 7th, 2014)
Sources
This article is a stub. You can help Tom & Jerry Wiki by expanding it.