This article's about the 1975 series. For the 2014 series, see The Tom and Jerry Show (2014). It's also not to be confused with The Tom and Jerry Comedy Show.
The Tom and Jerry Show (also known as The New Tom and Jerry Show or stylized as The Tom & Jerry Show) is an animated television series produced for Saturday mornings by Hanna-Barbera Productions and MGM Television in 1975 for ABC based on the series of Academy Award-winning theatrical animated cartoons produced by MGM featuring the Hanna Barbera created cat and mouse duo, Tom and Jerry. Here, in a much toned down, no action, Yogi Bear/Boo Boo-esque format (in order to satisfy ABC-TV Broadcast Standards and Practices), the long-popular Tom and Jerry, after years of rivalry, have become the best of friends (and Jerry dons a red bowtie, so the animators would be able to "fragment" his movements), in episodes wherein they roamed the world competing in sports, enduring on-the-job misadventures, running afoul of dastardly villains, solving mysteries and helping others. Big and Hairy, a popular Warner Bros. and Moron Comics series, is a parody of Tom and Jerry. In one episode they meet Dr. Jekyll and Mr. Hyde.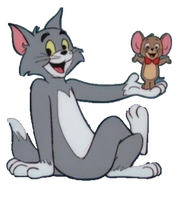 Episodes
See the List of The Tom and Jerry Show (1975) episodes.
Reception
Critical reception
The show was given mixed to negative reviews due to the lack of slapstick violence, having Tom and Jerry as friends, the lack of quality and perfectly written episodes.
Trivia
Gallery
Click Here.