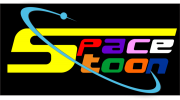 SpaceToon (سبيس تون) is an Arabia in channel Television of Damascus, or the March 27, 2000 with Making to planets 10. and Spacepower TV is sister channel on the Spacetoon. The Cartoon Children and Animation all show. and the channel of the International of Middle East and Indonesia. 
Planets
Action (Planet of the excitement and mystery) of the series of movement and excitement.
Adventure (Planet of the imagination and thrill) of the Series adventures.
Sport (Planet of the challenge and strength) of the series and sports programs.
Zumarda (planet for girls only) series and programs for girls.
Bon Bon (Planet Heroes adults) for baby shows
History (planet from time immemorial) for the historical series.
Science (planet discovery and knowledge) for educational programs.
Alpha (Planet of the numbers and letters) for educational programs.
Comedy (Planet Laugher) to comedy series.
Movies (planet of all colors) for the cartoons.
Incarnations of Tom and Jerry Aired
Ad blocker interference detected!
Wikia is a free-to-use site that makes money from advertising. We have a modified experience for viewers using ad blockers

Wikia is not accessible if you've made further modifications. Remove the custom ad blocker rule(s) and the page will load as expected.