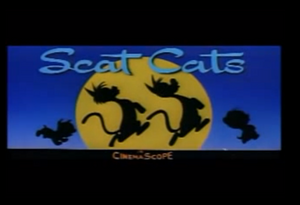 Scat Cats is the second and last Spike and Tyke cartoons, released in 1957.
Characters
Plot
Spike and Tyke are sleeping, but Butch has to call his friends to visit. The three cats are scared. Spike tells Tyke that's his boy.
1. Lightning is using the rope.
2. Topsy swings down.
3. Meathead uses the ladder.
4. Topsy ride on a airplane but Spike won't.
5. Butch uses the net to make Meathead in.
6. Lightning cross under and Spike bits his arm.
7. They ride their bike.... 
8. Tyke bits "George", and rips his clothes.
As they run back to the tree. Spike says that's his boy.