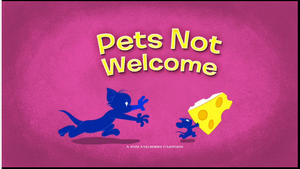 Pets Not Welcome
is the thirty-sixth episode of
The Tom and Jerry Show (2014)
.
Characters
Tom Cat
Jerry Mouse
Spike Bulldog
Nibbles Mouse
Hotel Resort Manager
Hotel check-in clerk
Tourists
Plot
After being banned for life from Air Hotel, Rick and Ginger arrive in Hawaii and illegally sneak Spike and Tom into the hotel resort despite the no-pets allowed policy. Jerry and Nibbles runs off to explore the resort, causing mayhem.
In the end, the hotel resort manager kicks both Tom and Spike out and bans Rick and Ginger; the hotel resort is closed for renovations.
Trivia
Videos
Ad blocker interference detected!
Wikia is a free-to-use site that makes money from advertising. We have a modified experience for viewers using ad blockers

Wikia is not accessible if you've made further modifications. Remove the custom ad blocker rule(s) and the page will load as expected.