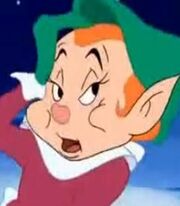 Paulie is a character from Tom and Jerry: A Nutcracker Tale. He is a Christmas ornament elf who fasts unravel when he falls in water. He is one of Jerry's allies in search of Toymaker. He is voiced by Ian James Corlett.
Ad blocker interference detected!
Wikia is a free-to-use site that makes money from advertising. We have a modified experience for viewers using ad blockers

Wikia is not accessible if you've made further modifications. Remove the custom ad blocker rule(s) and the page will load as expected.