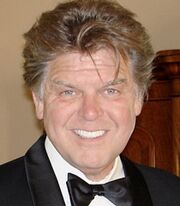 Patrick Howard "Pat" Fraley (born February 18, 1949) is an American voice actor and voice-over teacher who is best known as the voice of Krang, Casey Jones, Baxter Stockman and numerous other characters from the 1987 Teenage Mutant Ninja Turtles animated television series. He is also a member of Voice and Speech Trainers of America. He voiced Kyle and The Yolker in Tom & Jerry Kids.
Ad blocker interference detected!
Wikia is a free-to-use site that makes money from advertising. We have a modified experience for viewers using ad blockers

Wikia is not accessible if you've made further modifications. Remove the custom ad blocker rule(s) and the page will load as expected.