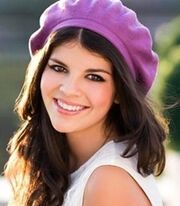 Nicole "Nikki" Yanofsky (born February 8, 1994) is a Canadian jazz-pop singer-songwriter from Montreal, Quebec. She is best known as the vocalist of the Canadian CTV theme song for the 2010 Winter Olympic Games, "I Believe". She provide the singing voice of Dorothy in Tom and Jerry & The Wizard of Oz.
Ad blocker interference detected!
Wikia is a free-to-use site that makes money from advertising. We have a modified experience for viewers using ad blockers

Wikia is not accessible if you've made further modifications. Remove the custom ad blocker rule(s) and the page will load as expected.