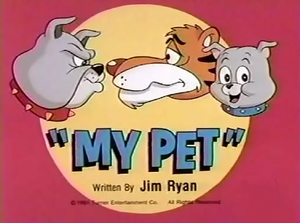 "My Pet" is a episode of Tom & Jerry Kids written by Jim Ryan.
Characters
Spike Bulldog
Tyke Bulldog
Titan the Terrible
Trivia
This is the second episode to start with 'My'. The first was "My Pal".
My Pet is the first of the three Spike and Tyke cartoons in Season 2.
Ad blocker interference detected!
Wikia is a free-to-use site that makes money from advertising. We have a modified experience for viewers using ad blockers

Wikia is not accessible if you've made further modifications. Remove the custom ad blocker rule(s) and the page will load as expected.