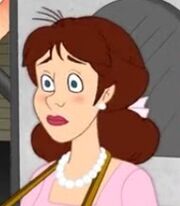 Mrs. Bradley is a character from Tom and Jerry's Giant Adventure. She is the mother of Jack and the deceased wife of Joe Bradley. She is voiced by Grey DeLisle who did Red Fairy in the film.
Trivia
According to the beginning of the film, her real name is Vlolet.
Ad blocker interference detected!
Wikia is a free-to-use site that makes money from advertising. We have a modified experience for viewers using ad blockers

Wikia is not accessible if you've made further modifications. Remove the custom ad blocker rule(s) and the page will load as expected.