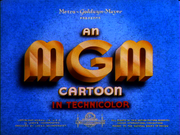 MGM is an American animation anthology series. These shorts were on Cartoon Network, but MGM was the first original series to air on Boomerang, from 2003-2014. This series is a collection of classic Metro-Goldwyn-Mayer cartoons from 1934 to 1958. It doesn't actually show Tom and Jerry or Spike and Tyke shorts from MGM, those are shown on the Tom and Jerry block.
See also
Ad blocker interference detected!
Wikia is a free-to-use site that makes money from advertising. We have a modified experience for viewers using ad blockers

Wikia is not accessible if you've made further modifications. Remove the custom ad blocker rule(s) and the page will load as expected.