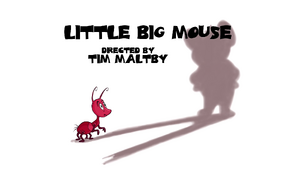 "Little Big Mouse" is a part of the 20th episode of Tom and Jerry Tales, originally airing on November 10th, 2007.
Characters
Plot
During a brutal heatwave, while Tom and his owner, Mrs. Two Shoes, are relaxing by the refrigerator, Jerry takes all the food for a picnic which leaves the cat to take the rap for the thefts-and get expelled from the house. Tom manages to retaliate with a help of an ant.
Trivia
Ad blocker interference detected!
Wikia is a free-to-use site that makes money from advertising. We have a modified experience for viewers using ad blockers

Wikia is not accessible if you've made further modifications. Remove the custom ad blocker rule(s) and the page will load as expected.