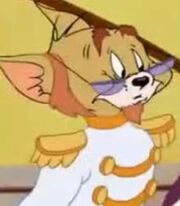 Lackey is a character from Tom and Jerry: A Nutcracker Tale. He is a yellow, old-like cat who was the assistant of the King of Cats. He is called Prime Minister Lackey. He is voiced by Trevor Devall.
Gallery
Coming Soon!
Trivia
Coming Soon!
This article is a stub. You can help the Tom and Jerry Wiki by expanding it.
Ad blocker interference detected!
Wikia is a free-to-use site that makes money from advertising. We have a modified experience for viewers using ad blockers

Wikia is not accessible if you've made further modifications. Remove the custom ad blocker rule(s) and the page will load as expected.