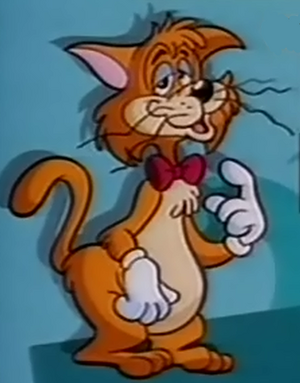 Kyle is a character from Tom & Jerry Kids.
Personality
Kyle is a mangy Dark-Orange Cat living in the streets. He is alongside Clyde and sometimes depicted as an antagonist of Bernie the Bird, including Spike and/or Tyke in the first episodes. He has a son named Karl and was voiced by Patrick Fraley, known for playing various roles in the Filmation Cartoons.
Trivia
Kyle means 'narrow sea channel' in Scottish.
Ad blocker interference detected!
Wikia is a free-to-use site that makes money from advertising. We have a modified experience for viewers using ad blockers

Wikia is not accessible if you've made further modifications. Remove the custom ad blocker rule(s) and the page will load as expected.