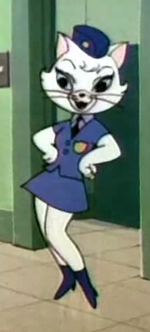 Katy O'Kitty
is a character appearing only in
The Tom and Jerry Show (1975)
episode "
The Police Kitten
". She is a female police cat rookie, by letting her ride with Tom and Jerry and doing their job better than they are, which causing them to be green with envy.
Appearance
Katy O'Kitty resembles Toodles Galore from the Tom and Jerry cartoon Love Me, Love My Mouse. She wears a blue uniform with a hat and high heel boots.
Trivia
Kathy Gori voices Katy O'Kitty. Gori is best known for such Hanna-Barbera voice roles as Gidget Lawrence on the November 18, 1972 ABC Saturday Superstar Movie, Gidget Makes The Wrong Connection, Lori on Inch High, Private Eye (NBC, 1973-74), Katie on Valley Of The Dinosaurs (CBS, 1974-76), and the Fran Drescher-esque Rosemary the telephone operator on Hong Kong Phooey (ABC, 1974-76). She also voiced Sarge on DePatie-Freleng's Bailey's Comets (CBS, 1973-75).
Katy O'Kitty bears a resemblance to Tom's white female feline (whom he loses out) in the 1956 T&J short, Blue Cat Blues, which was one of the rare T&J theatricals which, like the 1975 T&J series, depicted the friendly enemies Tom & Jerry as pals.
Gallery