Just Plane Nuts

Season No.

1

Ep No.

35

Air Date

July 23, 2014

Next

Previous

Just Plane Nuts is the thirty-fifth episode of The Tom and Jerry Show (2014).
Synopsis
Plot
Rick and Ginger are going on vacation, and they are taking their pets, Tom and Spike along with them.
In the end, Rick and Ginger are banned from Air Travel forever.
Characters
Spike Bulldog
Travel Agent
Nibbles Mouse
Jerry Mouse
Flight Attendant
Pilot
Tom Cat
Ginger
Rick
Smell hand
Trivia
The title is a pun of just plain nuts.
This is the first part of a four-part episode (Just Plane Nuts, Pets Not Welcome, Cruisin' for a Bruisin', and Road Trippin' all have the same storyline - a vacation gone awry)
It is revealed that the pilot is allergic to cats.
Tom clinging to the wheel of the plane is similar to the way he did it in the 1955 cartoon, Southbound Duckling.
Videos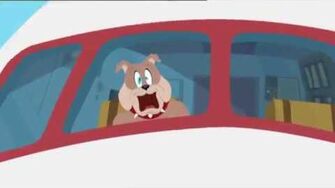 Ad blocker interference detected!
Wikia is a free-to-use site that makes money from advertising. We have a modified experience for viewers using ad blockers

Wikia is not accessible if you've made further modifications. Remove the custom ad blocker rule(s) and the page will load as expected.