Joy Riding Jokers

Season No.

1

Ep No.

4

Previous

Next
"Joy Riding Jokers" is the fourth episode of Tom and Jerry Tales, originally airing on September 30th, 2006. It is directed by Douglas McCarthy, written by Charles Schneider and storyboard by James Lopez.
Plot
Spike, thinking that Tom and Jerry are valets (as they were wearing clothes like one), leaves his fancy car parked, with the intention of the two bringing it back intact. After an involuntary, wild tour involving a shopping mall, a building and a white sewer alligator among a few other things, Tom and Jerry deliver the vehicle back to Spike, who then gives them his tip. No later does Spike turn the key than his magnificent sled breaks up into its component parts. As Jerry is running with the tip with Tom chasing him, Spike yells them to return the tip back to him.
Gallery
Videos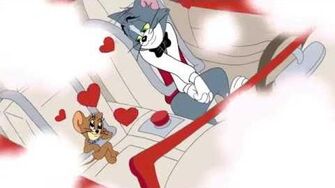 Ad blocker interference detected!
Wikia is a free-to-use site that makes money from advertising. We have a modified experience for viewers using ad blockers

Wikia is not accessible if you've made further modifications. Remove the custom ad blocker rule(s) and the page will load as expected.