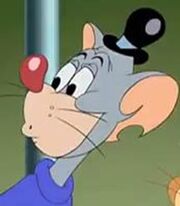 Joey is Freddie's dumber partner in Tom and Jerry: The Magic Ring. He is voiced by Jeff Bennett.
He is first seen with Freddie bullying and tormenting a young mouse named Nibbles in the same cage Jerry is placed in.
This article is a stub. You can help the Tom and Jerry Wiki by expanding it.