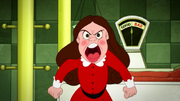 I Want It Now is a song sung by Veruca Salt and Arthur Slugworth in the 2017 Direct to DVD film Tom and Jerry: Willy Wonka and the Chocolate Factory.
Lyrics
Veruca Salt:
Gooses! Geeses!
I want my geese to lay gold eggs for Easter

Mr. Salt:
It will, sweetheart

Veruca:
At least a hundred a day

Mr.Salt:
Anything you say

Veruca:
And by the way

Mr. Salt:
What?

Veruca:
I want a feast.

Mr. Salt:
You ate before you came to the factory

Veruca:
I want a bean feast!

Mr. Salt:
Oh, one of those

Veruca:
Cream buns and doughnuts
And fruitcake with no nuts
So good you could go nuts

Mr. Salt:
You can have all those things when you get home

Veruca:
No, now!

I want a ball
I want a party

Pink macaroons
And a million balloons
And performing baboons and
Give it to me now

I want the world
I want the whole world

I want to lock it
All up in my pocket
It's my bar of chocolate
Give it to me noooooooow

I want today
I want tomorrow

I want to wear them
Like braids in my hair and
I don't want to share them

I want a party
With roomfuls of laughter
Ten thousand tons of ice cream

And if I don't get the
Things I am after
I'm going to screeeeeEEEEEEEAAAAAAAAM!

I want the works
I want the whole works

Presents and prizes
And sweets and surprises
Of all shapes and sizes
And now

Don't care how
I want it now
Don't care how
I WANT IT NOOOOOOOOOOOOOOooooooooooowwwwwwwww...

Oompa Loompas:
Oompa Loompa
Doompa-dee-do
I've got another
Puzzle for you

Oompa Loompa
Doompa-dee-dee
If you are wise
You'll listen to me

Who do you blame
When your kid is a brat?
Pampered and spoiled
Like a Siamese cat

Blaming the kids
Is a lie and a shame
You know exactly
Who's to blame

The mother and the father

Oompa Loompa
Doompa-dee-da
If you're not spoiled then
You will go far

You will live in
Happiness too
Like the Oompa Loompa
Doompa-dee-do
Gallery
Ad blocker interference detected!
Wikia is a free-to-use site that makes money from advertising. We have a modified experience for viewers using ad blockers

Wikia is not accessible if you've made further modifications. Remove the custom ad blocker rule(s) and the page will load as expected.