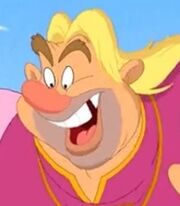 Ginormous aka The Giant is the main antagonist of Tom and Jerry's Giant Adventure. He is voiced by Tom Wilson who voices Mr. Bigley.
Information
Appearance
Ginormous is much similar to Mr. Bigley. He wears a necklace that says "G".
Powers and abilities
Sense of Smell: Ginormous can smell gold and creatures that are smaller than him, according to Droopy, the giant knows everyone by smell.
Size: The Giant is far much bigger than those that's beneath him, his footsteps can cause the Storybookland and his castle to shake.
Gallery
Ad blocker interference detected!
Wikia is a free-to-use site that makes money from advertising. We have a modified experience for viewers using ad blockers

Wikia is not accessible if you've made further modifications. Remove the custom ad blocker rule(s) and the page will load as expected.