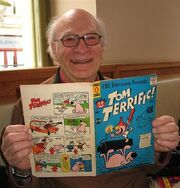 Eugene Merril "Gene" Deitch (born August 8, 1924 in Chicago, Illinois) is an American illustrator, animator and film director. He has been based in Prague since 1959.
Deitch produced animated cartoons for studios such as UPA/Columbia Pictures, Terrytoons/20th Century Fox (Tom Terrific), MGM (Tom and Jerry), and Paramount Pictures (Nudnik, Popeye).
He is the father of Kim Deitch, Simon Deitch, and Seth Deitch are prominent artists and writers in the underground comix and alternative comics movements.