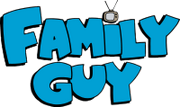 Family Guy is an animated television show that airs on the FOX television network. The show was created by Seth MacFarlane and premiered after Super Bowl XXXIII in 1999.
Parodies
"The Worry Song" in "Road to Rupert" superimposed Stewie over the figure of Jerry Mouse dancing with Gene Kelly from the film Anchors Aweigh.
Ad blocker interference detected!
Wikia is a free-to-use site that makes money from advertising. We have a modified experience for viewers using ad blockers

Wikia is not accessible if you've made further modifications. Remove the custom ad blocker rule(s) and the page will load as expected.