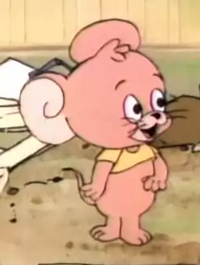 Dinky is a mouse that appears only in The Tom and Jerry Show (1975) episode "Jerry's Nephew". He is Jerry's nephew (who refers to both Tom and Jerry as his uncles).
Appearance
Dinky is much similar to Jerry. He has small hair on his head and wears a short yellow shirt. He also have black eyes.
Trivia
Dinky is the second character to be Jerry's nephew. The first being Nibbles Mouse.
Gallery
Ad blocker interference detected!
Wikia is a free-to-use site that makes money from advertising. We have a modified experience for viewers using ad blockers

Wikia is not accessible if you've made further modifications. Remove the custom ad blocker rule(s) and the page will load as expected.