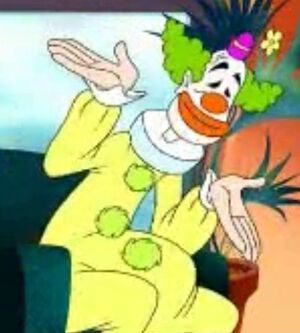 Clown-O is a character who appears in Tom and Jerry: The Fast and the Furry. He is voiced by J. Grant Albrecht.
Information
In the film, he lives with J.W. and he needs a partner, he certainly tells J.W. what animal it would be, but Irving pushes a cage with Clown-O's pet bear, Mr. Frisky. Clown-O thinks Mr. Frisky is pretty dangerous (although Mr. Frisky acts like a good dog). He touches him and Mr. Frisky got him and he runs away in a chase of Mr. Frisky.
Appearance
He has a white head, red lips, red nose, yellow clothing, red shoes, green hair, white collar, and a purple hat with a yellow flower.
Ad blocker interference detected!
Wikia is a free-to-use site that makes money from advertising. We have a modified experience for viewers using ad blockers

Wikia is not accessible if you've made further modifications. Remove the custom ad blocker rule(s) and the page will load as expected.