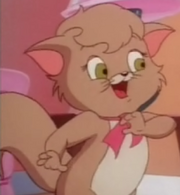 Cindy-Lou is a character who appears in the Tom & Jerry Kids episode "Birthday Surprise". She is voiced by Teresa Ganzel.
Biography
Cindy Lou is a beige-brownish cat around Tom's age and appears exclusively in Birthday Surprise, celebrating her birthday. Hoping to have a mouse of her own as she conversates with a friend through the phone, with Tom overhearing it. so, he tries time and time again to give Jerry to her. Soon, after Tom finally got to give her Jerry in a music box, but she exits the house as She goes with another cat named Gaylord, who is wearing a diamond-studded vest, and inadvertently leaves a heartbroken Tom as she goes in a sports car into the horizon.
Gallery
Ad blocker interference detected!
Wikia is a free-to-use site that makes money from advertising. We have a modified experience for viewers using ad blockers

Wikia is not accessible if you've made further modifications. Remove the custom ad blocker rule(s) and the page will load as expected.