Cat Got Your Luggage?

Season No.

1

Ep No.

5

Previous

Next
"Cat Got Your Luggage?" is the fifth episode of Tom and Jerry Tales, originally airing on September 30th, 2006. It is directed by Douglas McCarthy, written by Richard Pursel and storyboard by Charles Visser.
Characters
Plot
When Tom is put in charge of managing a fancy hotel, Jerry tries every prank possible to turn the cat's dream job into a horrible nightmare.
Transcript
Main article: Cat Got Your Luggage?/Transcript
Gallery
Videos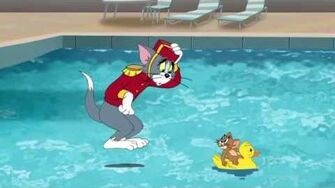 Ad blocker interference detected!
Wikia is a free-to-use site that makes money from advertising. We have a modified experience for viewers using ad blockers

Wikia is not accessible if you've made further modifications. Remove the custom ad blocker rule(s) and the page will load as expected.