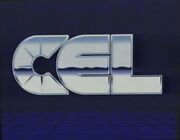 CEL Home Video (Communications and Entertainment Limited) was an Australian home video label founded in 1980. MGM/UA Home Video was one of CEL's many distributed labels, thus releasing Tom and Jerry VHS tapes.
Releases
The Flying Cat, The Bodyguard, The Little Orphan, Jerry's Cousin, Dr. Jekyll and Mr. Mouse, Mice Follies, The Cat and the Mermouse, The Cat Concerto
TBA
TBA
Fraidy Cat, Baby Butch, Johann Mouse, Pet Peeve, The Mouse from H.U.N.G.E.R., The Dog House, Baby Puss, The Zoot Cat
The Bowling Alley-Cat, Pecos Pest, The Duck Doctor, Robin Hoodwinked, Hatch Up Your Troubles, Heavenly Puss, The Yankee Doodle Mouse, Tee for Two
Ad blocker interference detected!
Wikia is a free-to-use site that makes money from advertising. We have a modified experience for viewers using ad blockers

Wikia is not accessible if you've made further modifications. Remove the custom ad blocker rule(s) and the page will load as expected.