Blue Cat Blues

Directed By

Produced by

William Hanna
Joseph Barbera

Story By

William Hanna
Joseph Barbera

Music By

Animation By

Distributed By

Metro-Goldwyn-Mayer

Release Date

November 16, 1956

Color Process

Technicolor/CinemaScope

Preceded By

Followed By
Blue Cat Blues is the 103rd one reel animated Tom and Jerry short, created in 1956, directed and produced by William Hanna and Joseph Barbera with music by Scott Bradley. The cartoon was animated by Ed Barge, Irven Spence, Lewis Marshall and Kenneth Muse, with layouts by Richard Bickenbach and backgrounds by Robert Gentle.
Unusually for a Tom and Jerry short, Jerry "speaks", narrating the story in voice over via Paul Frees. This cartoon was released on November 16, 1956 by Metro-Goldwyn-Mayer.
Plot
A depressed Tom is sitting on the railroad tracks, killing himself. Watching from a bridge crossing the tracks from above, Jerry sadly observes that "it's better this way." He relives "the story of a cat with a broken heart" in his head.
He relates the events leading up to Tom's depression, beginning with Tom and Jerry as best friends, until Tom found himself attracted to a female opportunist cat who reciprocates his feelings for the time being, but Tom's rival, the much wealthier and richer Butch, watches as she swings from a swing up to his penthouse, and rudely intrudes by grabbing the female right off the seat and kissing her, so knowing how rich Butch is, the cat immediately dumps Tom and becomes his prize.
Tom pushes himself and his finances to the limit trying to win his girl back with presents such as flowers, perfume, diamond rings, and a car, but she is no longer interested in Tom, as Butch's presents are much bigger, more expensive, and much more extravagant. Tom has become all but invisible to the gold digging, black-hearted cat and now broken-hearted, penniless, and deep in debt, he tries to drown his sorrows in milk. He is about to literally let himself be washed away down the gutter until Jerry, at the last second, rescues him. Just when his misery could not get any worse, he (Tom) sees that his love mate is now Butch's wife around the world; the pair drive past him with a "just married" sign on the back of their car. Jerry is content in the final scene that his girlfriend 'Toots' is faithful to him, when suddenly his idyllic world is shattered as she rides by in a car with another mouse and a "just married" sign. The now-dejected Jerry then joins Tom on the railroad tracks. The ending has the sound of the whistle of an incoming locomotive turn louder and the episode ends.
Notes
This is one of the cartoons where Jerry rescues Tom. He also saves the cat in Cannery Rodent, I'm Just Wild About Jerry, Buddies Thicker Than Water, Puppy Tale and The Cat and the Mermouse.
This was the only tragic storyline episode made.

Although it is treated darkly, Downhearted Duckling has more scenes involving suicide attempts than this.

This was the last cartoon to credit the ending until Penthouse Mouse. Also the last to use An MGM Tom and Jerry Cartoon line at the end title.
Jerry's voice narration was done by Paul Frees.
Due to the dark nature of the ending, many fans mistake that this is the final episode of the original series.
It is odd how Butch is shown as rich in this storyline, since throughout the series he has frequently been seen as a homeless stray cat living outdoors, while Tom is able to live in a house with his owners.
Gallery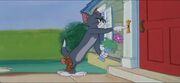 External Links
Blue Cat Blues at SuperCartoons.net
Blue Cat Blues at B99.TV