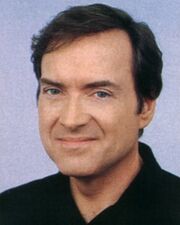 William Richard "Billy" West (born on April 16th, 1950) is an American voice-actor, best known for his voice work in The Howard Stern Show, Ren & Stimpy, Looney Tunes, Doug, and Futurama. He also voiced Tom Cat in Tom and Jerry Meet Sherlock Holmes and Tom and Jerry & The Wizard of Oz, Freddie in Tom and Jerry: The Magic Ring, Biff Buzzard and King Thingg in Tom and Jerry: Blast Off to Mars and Tom and Jerry: The Fast and the Furry.
Roles
Ad blocker interference detected!
Wikia is a free-to-use site that makes money from advertising. We have a modified experience for viewers using ad blockers

Wikia is not accessible if you've made further modifications. Remove the custom ad blocker rule(s) and the page will load as expected.