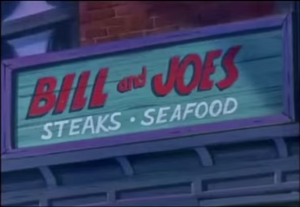 Bill and Joe's is a restaurant and a minor location in Tom and Jerry: The Movie.
Information
The restaurant is only seen when Tom is looking at the food in the pictures after Tom and Jerry were been abandoned by their owner and when their house been demolished by a vintage 1950s wrecking ball and got replaced by an apartment building. When he enters, an restaurant owner kicks Tom out of the place saying "Hey beat it! No cats allowed!" and then Jerry laughs in amusement at that.
Trivia
Gallery
Ad blocker interference detected!
Wikia is a free-to-use site that makes money from advertising. We have a modified experience for viewers using ad blockers

Wikia is not accessible if you've made further modifications. Remove the custom ad blocker rule(s) and the page will load as expected.