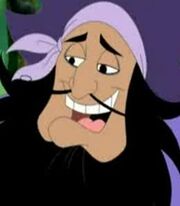 Barnacle Paul (also known as Purple Pirate Paul) is one of the pirate brothers in Tom and Jerry: Shiver Me Whiskers. His brothers (and enemies) are Bob and Ron. Hes' the only one of the brothers who speaks normally as opposed to Bon and Ron who just say 'Yar'. He is voiced by Wallace Shawn.
Gallery
Ad blocker interference detected!
Wikia is a free-to-use site that makes money from advertising. We have a modified experience for viewers using ad blockers

Wikia is not accessible if you've made further modifications. Remove the custom ad blocker rule(s) and the page will load as expected.